A Look at Free Hosting and Shared Hosting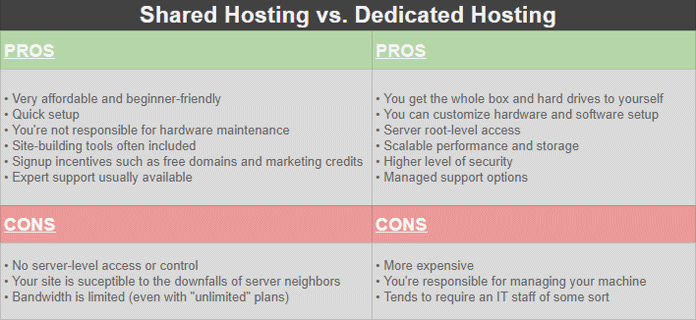 Thousands of webmasters began their online career with free hosting and worked their way up the scale. The free hosting servicing industry has been active for quite some time, but that doesn't mean it is the best out there. You will need to think about the advantages of disadvantages of opting for free hosting. Depending on your situation and how you use the plan, free hosting may be the best solution for you. Regardless of whether it is perfect for you or not, you need to know the pros and cons of choosing free hosting. Once you have played around with free hosting, you will need to move onto shared hosting.
Sign up for Free Hosting
When you sign up for free hosting, you will be immediately aware that the resource they provide you with is not sufficient for a medium to large sized site. You will be asked to choose a sub-domain to use for your site. Free hosting companies don't offer you the ability to use a free domain that ends with a top level domain suffix. Sub-domains are not professional and they are harder to remember. When the time comes to purchase your own hosting plan from another, you will need to have your own domain. The traffic you receive at your sub-domain will be lost. This is one of the reasons why many people try to avoid free hosting.
How does shared web hosting work? There is always a single server that is used to offer shared hosting. The server will be used to provide hosting services to hundreds of users. There are small accounts that are created on the server, and these accounts will be given to each user. Since the server is shared by many users, this type of hosting service is known as shared hosting. Shared hosting is the cheapest paid hosting solution available in the market. Even with shared hosting, you will come across several limitations. Since the server is used by many users, you cannot use all the available memory on the system. So, hosting a large site will require you to lease your own dedicated server. However, when you are just starting off your website, you can opt for shared hosting. When your website begins to grow at a fast pace, you can transfer to your own server.
The amount of space and bandwidth you require should be thought of prior to buying a hosting plan. With free hosting, you will only be able to get a limited amount of space and bandwidth. You will be able to purchase additional space from free hosting companies, but it is most effective to purchase from a shared hosting service provider. Free hosting companies don't all give you the ability to use databases and email clients. So, if it is crucial that you run scripts and portals on your website; you will need to have a paid hosting solution. With increasing competition in the industry, hosting prices have gone down a great deal. You can now purchase an unlimited hosting plan for as low as five dollars a month.